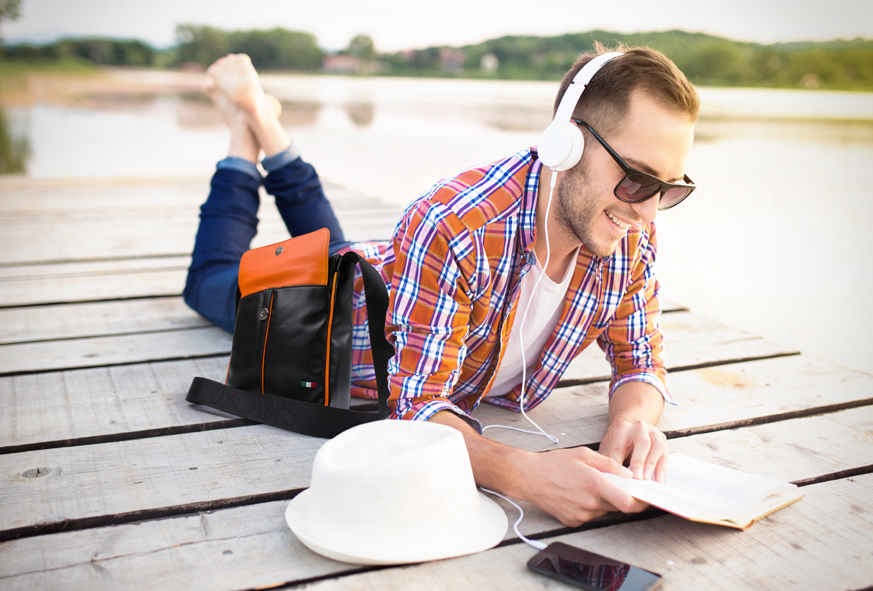 The classic and yet modern style of the messenger bags is back in vogue. They were gone for a while, but now they are the essential bags to be with us along with other daily items, such as a laptop.
Our days are becoming more and more frenetic and unpredictable, so it's better to have something versatile and practical to bring along. Our keywords are comfort and versatility: These are bags that you can bring either along or across your shoulder, or by the hand.
Messengers though are also style and identity, so our classical design speaks a modern tongue, tot an ancient one. Inside our bags you will find compartments designed for smartphones and a specific hole for the earplugs to pass through. These are bags thought and designed for the modern daily needs.
Here are some of our Original Tuscany's catalog favorite models for you to choose amongst and find the one that best represents you.
Leather shoulder bags with a modern style.
The Design of our full grain, black leather shoulder bag Piano speaks for itself. A simple and practical bag, yet sleek and stylish at the same time. Just imagine using it in your daily travels, like in a train or in the metro. It can hold everything, it has a wide multifunctional internal pocket with a penholder and room for a tablet and a laptop. In the external pockets you can put, the items you need at hand, such as your keys and your smartphone. And if you like listening to music during your travel time, there is a special hole that allows for your earplugs to pass through the external space and be plugged to the smartphone or MP3 player inside. Roomy, modern and tough, it will be by your side everyday, for the years to come.
If you have a minimal style, Montanelli is the right bag for you. It borrows it's name from a great Italian journalist that took his part in Italian history with his decisive and straightforward character. and this bag may represent his personality as well as yours. Made in handmade cowhide full grain leather, is a simple and yet high quality object, as all things made in Italy, it has two multifunctional pockets with penholders whererin you can place everything you need at your workplace or classroom. That's great if you want to follow the great Montanelli's path, but is perfect for lawyers, graphic designers, architects, engineers and teachers.
Our leather man's handbags
Or… maybe you need something as cool and practical, but not so much as large. If you usually bring with you few items and you want an endearing and functional handbag, our Fuksas model is the right one for you. Contemporary design and high quality craftmanship, is great for you to bring along regardless the goal, being it your workplace, the grocery store, visiting a friend or just a strolland the space you need is just a few inches wide. The frontal flap is magnetised, so you can swiftly open and close it without any time loss. This one too has the earplug hole, so you can listen to music while walking or or riding the train.
Leopardi has similiar functions, but with a different metropolitan and elegant style, suitable for every season in the year. Compact style notwhistanding, the compartment inside is roomy enough to hold the laptop, headphones and a book, and a zipped internal pocket for the things you want to keep safe. On the outside it has a practical phone-holder pocket. Available in three colors, black brown and blue, made in "Dollaro" leather vegetable tanned, according to the typical tuscan tanning tradition.
In our catalog you can also find many more leather shoulder bags, take a look and choose the right one for you. Call us, our team will be happy to answer any question and provide you with any information you want.