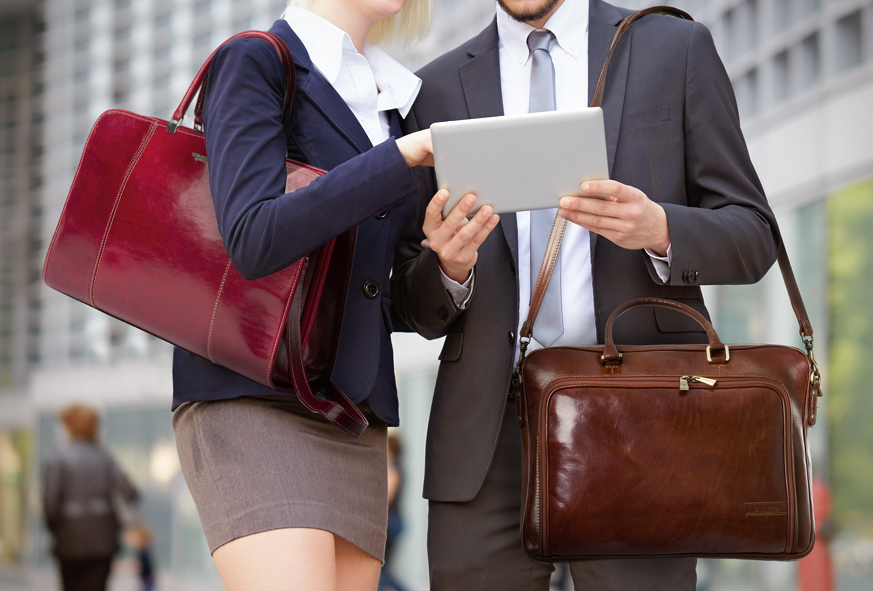 The business bag is the bag that more reflects our needs. It isn't a simple accessories but something more. An indispensable, extremely personal tool that adapts to our working days. Let's see how to choose the most business bag based on the activity we do and our habits.
The key features for a business bag:
When choosing a bag, dimensions are certainly the most important aspect. Depending on one's profession, a business bag must be more or less large. The first element to be evaluated is therefore the dimensions. In our catalog of professional leather briefcases you will find a wide range of models of different sizes, which meet the various needs of a professional. To contain, for example, documents, folders, books or laptops for teachers, lawyers, architects, or the various tools necessary for a doctor, you need to use a bag with rather generous spaces to accommodate everything you need.An advice: check the exact dimensions before buying so you know first if there are the items you need (for example the laptop).
Another feature of a good professional bag is the internal division. A very equipped bag, with external pockets and internal compartments, allows you to neatly manage the objects to be transported. Not just laptops, books and documents but also space for mobile phones, earphones, pens and much more. If you prefer a clean design without external pockets, there are several models that are very equipped only inside. The inside of the bag reflects the management of your working day.
Handles or shoulder strap? Depending on how you move to go to work, the portability of a bag is another key element. A professional who moves by bicycle, and prefers a sporty look, although always very elegant, can lean on a shoulder bag. For a business meeting, where a more formal look is required, the handles are a great choice. For the undecided there are also many bags with shoulder strap and handles together, so you can adapt your bag to every occasion.
The bag design is not a secondary aspect, since you will use it every day must adapt to your work, the context in which you work and your clothing. The search for an elegant, classic and refined line can be adapted to professions where formal clothing is required, while a more sporty and contemporary design can go well for more informal contexts.
Along with a recognizable and refined, elegant or sporty design, a prerogative of our bags is resistance. A business bag must last a long time. The leathers with which the Original Tuscany bags are made are all of the highest quality, are durable and last a lifetime. Over the years they acquire value and character, in harmony with their owner. They are therefore ideal for daily use that also requires the transport of heavy and numerous objects.
The business bags of Original Tuscany
Thanks to the combination of these elements you are able to choose the most suitable business bag for you. In our catalog you will find business bags, doctor's bags, 24 hour briefcases, messenger shoulder bags, all strictly made in leather, in Italy, by the best Tuscan artisans. They are timeless bags, classic but with contemporary features. If you don't find the one you want in our catalog, or if you have any doubts, contact us. Our assistance will respond as soon as possible.