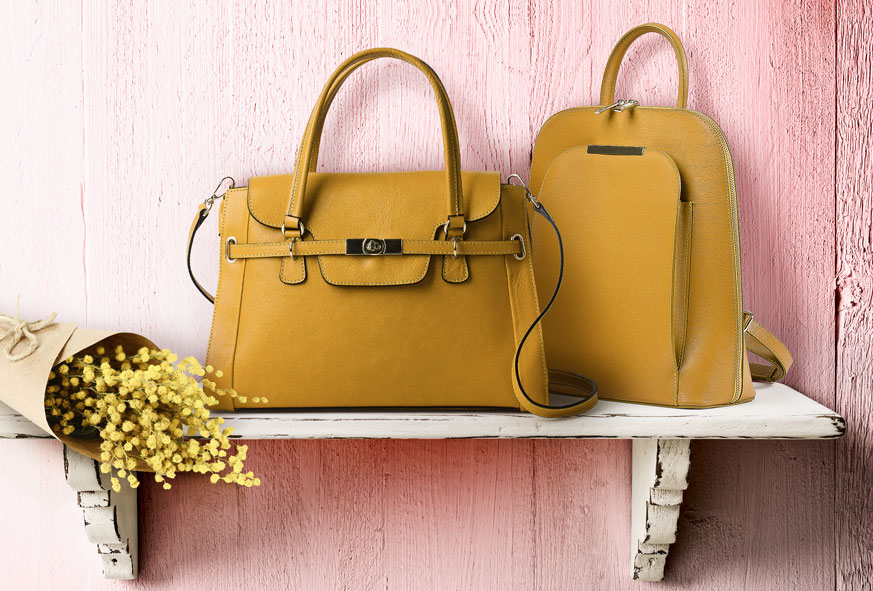 Few people know that to give mimosas on 8th of March is an Italian custom. Looking for a flower to use as a symbol to celebrate the International Women's Day. Which flower is found almost everywhere between February and March, in the avenues of the cities or in the country roads? The mimosas. A colorful, resistant and cheap flower, practically perfect.
8th of March, therefore, it has become a colorful party that anticipate spring. For this reason we decided to follow the tradition proposing as gift women's bags in yellow leather, resistant and essential. Like mimosas.
For example Ombretta. It is a cowhide bag, handmade. It is an intense yellow color like a beautiful sunny day, from the simple line but with many pockets. A perfect gift.
Or Adele. Other cowhide bag, simple and essential design in Made in Italy tradition, obviously yellow. A gift with guaranteed success, especially if accompanied by a beautiful bouquet of mimosas. 
What about the essentiality of Giorgia? Our women's backpack in saffiano leather, of a beautiful dark yellow color, which if necessary can also be transformed into a comfortable bag. It's a bag that adapts to different needs, therefore a useful and lasting gift. 
Nilla is a small jewel, perfect for all women. A handbag with a trendy design, 100% natural cowhide handmade. It's comfortable, capacious and treated in detail.
It's called Bianca and we offer it in this beautiful cognac color. It's a handbag in saffiano leather with removable shoulder strap, interior compartments and elegant and minimal design, typical of Made in Italy.
These are our gift ideas for the International Women's Day. We remind you that the bags in our catalog come all from the leather district, in the heart of Tuscany, made by the best leather craftsmen. All the products we offer are made of quality leather, worked and tanned according to a thousand year tradition. Therefore giving one of our bags means giving something useful, that never goes out of fashion, a symbol of Italian excellence with attention to the smallest details
If you want to give a gift or want more information contact us.